When:   September 18, 2021
General Course Information:
The course utilizes a single loop-format. Although some paved roads are necessary, the vast majority (about 90%) of the course will be on gravel and dirt roads. Some of these roads receive little to no maintenance and can change drastically after heavy rains and/or snowfall. Riders are encouraged to be fully prepared for any and all conditions. The route is remote therefore will include signage to help prevent riders from getting off course.
Course Specifics:
The Gunni Grinder starts in downtown Gunnison, Co with a neutral lead out Hwy 50 West until it turns south onto CR 32. The course ends on CR 38 just south of Hwy 50.
The route will include two check points/neutral aid stations.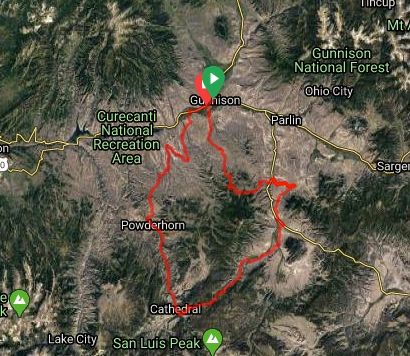 Prizes/Swag:
All Gunni Grinder participants will receive an event shirt and riders that complete the route will receive custom finisher swag.
Cash prizes will be paid 5 deep, men/women with equal payouts. Prizes will be based on total number of entrants with a minimum payout of $1,800.